Recommended Global Healthcare Management Conferences
Hospital management 2020
About the Conference
Conference series LLC LTD in association with Editorial Board Member of Journal of General Medicine, Diversity and equality in Health and Care, Alternative & Integrative Medicine, Primary health care & Health Education are going to organize an 3rd World congress on Alternative Medicine and Hospital managements during November 12-13, 2020 at Budapest, Hungary. The scientific program is a rich mix of formats ranging from keynote sessions featuring many well-known and thought-provoking speakers to intense and highly interactive discussion sessions.
The conference discusses the latest research outcomes and technological advancements in the field and brings together leading physicians, surgeons related to Alternative medicine departments, treatment specialists, plastic and cosmetic surgeons, orthopedic surgeons, experts and rehabilitation specialists in naturopathy, ayurvedic, unani and Chinese medicine, nutritionists, registered dieticians, business delegates, research scholars, students along with industrial and pharma professionals to exchange share their views on latest Restorative technologies and treatments available.
A great platform for Ayurveda practitioners, Yoga instructors, Homeopathic medicos, Chiropractors, Physical therapists, Massage therapists, Sports therapists, Physicians, Psychotherapists, Naturopathy practitioners and related experts to discuss and exchange their ideas on Complementary & Alternative Medicine. This includes reputed keynotes talks, oral presentations, Workshops, Symposium, poster presentations and young research forums.
Conference Opportunities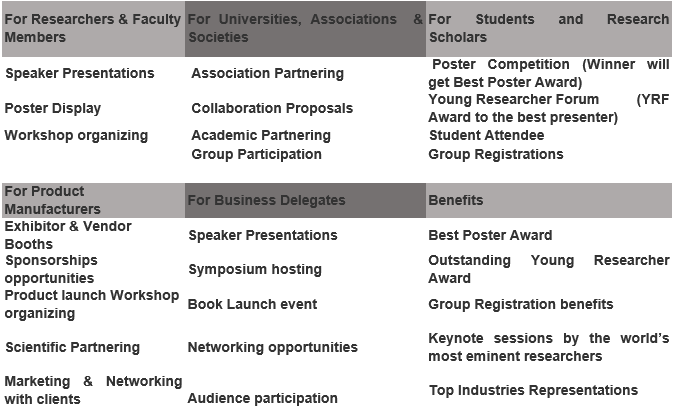 Why to attend???
Alternative medicine and Healthcare Management 2020 Conference brings together people from all different geographical areas who share a common field or discipline.
1) To meet with likeminded people and industry peers and they are a great way to meet new people in your field.
2) As you build your professional network, conferences can become a good place for meeting with people in your field that you haven't connected in a while.
3) Conference gives opportunity to talk to these people one-on-one about what they are working on.
4) To foster discussions, share expertise and exchange knowledge and best practices at all levels of the healthcare spectrum.
5) To showcase new healthcare technologies and solutions in an intimate setting focused specifically on Healthcare.
Sessions
Alternative medicine practices are used instead of standard medical treatments. Alternative medicine is distinct from complementary medicine, which is meant to accompany, not to replace, standard medical practices. Alternative medical practices are generally not recognized by the medical community as standard or conventional medical approaches. It includes dietary supplements, megadose vitamins, herbal preparations, special teas, massage therapy, magnet therapy, and spiritual healing. Much of the perceived effect of an alternative practice arises from a belief that it will be effective, or from the treated condition resolving on its own. This is further exacerbated by the tendency to turn to alternative therapies upon the failure of medicine, at which point the condition will be at its worst and most likely to spontaneously improve.
Conventional medicine is the type of medicine that the people who control the medical education system have deemed to be the most appropriate system of medical care. In the United States, conventional medicine consists primarily of drugs and surgery, which are the most widely used treatment modalities. Other treatments such as nutritional therapy, chiropractic, acupuncture and herbal medicine, are not generally considered to be a part of conventional medicine, even though they have been shown to be safe, effective and relatively inexpensive.
Holistic medicine is a form of healing that considers the whole person's body, mind, spirit, and emotions in the quest for optimal health and wellness. According to the holistic medicine philosophy, one can achieve optimal health. The primary goal of holistic medicine practice is by gaining proper balance in life. Like conventional medicine, holistic medicine aims to prevent and treat diseases and ailments. It also improves a patient's general health and well-being. The treatments and techniques used help boost the body's natural healing abilities. Empowering the patient to take charge of their own health is another important component of holistic medicine.
Alternative medical system is an umbrella term for several practices beyond the scope of conventional medicine. These forms of alternative medicine are built upon a complete system of ideas and practice and may have evolved in Western or non-Western cultures. Examples include Ayurveda, Chiropractic, Homeopathy, Naturopathic medicine, Osteopathy, and Traditional Chinese medicine.
Unani: An Islamic mending theory that consolidates significant components of old Greek medication which expect four components—earth, fire, water, air—and four relating humors: Mucus, Blood, Yellow bile and Dark bile, individually; it additionally fuses minor components of ayurvedic prescription. Unani set up composing includes a great many books. As shown by Unani pharmaceutical, organization of any disease depends on the assurance of sickness as a choice sort of drug, Unani arrangement has comparable qualities to Ayurveda. Both rely upon speculation of the proximity of the segments.
Siddha: Siddha framework is a champion among the most settled structures of medicine in India. The term Siddha deduces accomplishments and Siddhars were upstanding people who accomplished outcomes in medication. Eighteen Siddhars were said to have contributed towards the improvement of this therapeutic framework. Siddha making is in Tamil and it is exhausted, everything considered, in Tamil talking some piece of India and abroad. The Siddha Framework is, figuratively speaking, helpful in nature. The determination of ailments includes distinguishing it causes. Recognizable proof of causative variables is through the examination of heartbeat, pee, eyes, investigation of voice, shade of body, tongue and the status of the stomach related framework.
The Siddha System of Medicine underlines that restorative treatment is arranged not only to infection but rather needs to consider the patient, condition, the meteorological thought, age, sex, race, propensities, mental casing, natural surroundings, diet, hunger, physical condition, physiological constitution and so on. This implies the treatment must be individualistic, which guarantees that botches in conclusion or treatment are insignificant.
Global organizations, companies and governments are besides putting resources into traditional herbal medication clinical research. Along these lines, little writing tends to moral difficulties in this research. Ideas are connected in a thorough moral structure for clinical research to universal, customary and home-grown prescription research. Huge difficulties exist in deciding the similarly shared ideas of social esteem, logical legitimacy and ideal hazard as advantage proportion crosswise over worldwide research coordinated efforts. Technique included like broadly educating examiners, and putting resources into security checking foundation, the issues distinguished by this complete system can advance morally solid universal natural medication investigate that adds to worldwide wellbeing.
Scientific approval and educated assent
Ethical strategies and assertions
Safety-observing framework
Sustenance and revealing benchmarks
Homeopathy is among the most usually utilized as elective methodologies in Malignant growth. It is in effect broadly utilized as therapeutic and palliative in patients experiencing malignancy. Even though reviews on the utilization of Homeopathy in malignant growth after medical procedure, radio treatment and chemotherapy have been accounted for, clinical preliminaries on impacts of Homeopathy in disease are uncommon. In excess of 200 homeopathic drugs from plants, set of all animals, mineral and metals have been observed to be valuable for treating malignant growth.
The IT system has revolutionized the field of medicine. In this fast-paced world of medicine, it is a daunting task to manage a multi-specialty hospital. A hospital management system (HMS) is a computer or web-based system that facilitates managing the functioning of the hospital or any medical set up. This system or software will help in making the whole functioning paperless. It integrates all the information regarding patients, doctors, staff, hospital administrative details etc. into one software. It has sections for various professionals that make up a hospital.
Nurses are positioned to contribute and lead the transformative changes that are occurring in healthcare by being a fully contributing member of the interprofessional team as we shift from episodic, provider-based, fee-for-service care to team-based, patient-centered care across the continuum that provides seamless, affordable, and quality care. These shifts require a new or an enhanced set of knowledge, skills, and attitudes around wellness and population care with a renewed focus on patient-centered care, care coordination, data analytics, and quality improvement.
Adoption and utilization of EHRs are increasing rapidly but variable, given pressures of financial incentives, policy and technological advancement. Adoption is outpacing published evidence, but there is a growing body of descriptive literature regarding incentives, benefits, risks, and costs of adoption and utilization. Further, there is a rising body of evidence that EHRs can bring benefits to processes and outcomes, and that their implementation can be considered as a healthcare management strategy. Obstetrics and gynecology practices have specific needs, which must be addressed in the adoption of such technology. Specialty-specific literature is sparse but should be considered as part of any strategy aimed at achieving quality improvement and practice behavior change. Obstetrics and gynecologic practice present unique challenges to the effective adoption and use of EHR technologies, but there is a promise as the technologies, integration, and usability are rapidly improving. This technology will have an increasing impact on the practice of obstetrics and gynecology in the coming years.
Public health refers to all organized measures whether public or private to prevent disease, promote health, and prolongs life among the population. Its activities aim to provide conditions in which people can be healthy and focus on entire populations, not on individual patients or diseases. Medical sociology and public health share many of the same concerns in the study of social and cultural factors that affect the health of the population. Differences in theoretical approaches, methodological procedures, conceptualization and measurement, and research objectives, however, often serve to limit the potential for collaboration between the two disciplines. Sociologists possess many of the theoretical models and analytical techniques needed in public health for the study of the impact of poverty, inequality, socioeconomic status, differentials in power, and social and cultural differences on disease outcomes and health status. This field draws on traditional sociological issues and contributes to them through reformulations of such basic concepts as social systems and institutions, professionalism, social work and social change, and social interaction and negotiation.
As the Hospital management possess a trend that is for engaging the increasingly value of conscious patients and consumers. As the exploring capital models have required to finance to changeover in the healthcare system. For identifying the changes in management skills and expertise the leaders should be accelerate, innovate and improve the value of Healthcare System. A common thread throughout the possibilities of the findings believes that patients will become more involved in their own care
Deadlines
Abstract submissions:
First round ends on/before: December 28, 2019
Second rounds ends on/before: February 05, 2020
Final rounds ends on/before: May 20, 2020
Registrations:
First earlybird: January 10, 2020
Second earlybird: March 15, 2020
Final call: October 20, 2020
Participation options
Internal medicine and Hospital management 2020 provides the participants with different modes or ways to participate under either ACADEMIC / STUDENT / BUSINESS Category
Keynote speaker: 45-50 minutes
Speaker (oral presentation): 25-30 minutes (only one person can present)
Speaker (workshop): 45-50 minutes (more than 1 can present)
Speaker (special session): 45-50 minutes (more than 1 can present)
Speaker (symposium): more than 45 minutes (more than 1 can present)
Delegate(only registration): will have access to all the sessions with all the benefits of registration
Poster presenter: can present a poster and enjoy the benefits of delegate
Remote attendance: can participate via video presentation or e-poster presentation
Exhibitor: can exhibit his/her company's products by booking exhibitor booths of different sizes
Market Analysis
The alternative medicine market is expected to generate a revenue of USD 196.87 billion by 2025. Factors such as the increase in adoption of alternative medicine by people combined with the government initiatives of a number of key countries to enhance reach is expected to help in expansion revenue generation avenues.
Alternative forms of therapy are used in the treatment of chronic ailments, long-term pain among others and are also used for additional vitamins and other dietary supplementation of regular diet. Moreover, with considerable increase in the costs of conventional medicine and inclination towards body wellness rather than pharmaceutical cure is likely to boost the market over the forecast period.
As of early 2016, approximately two thirds of the population in most of the developed and developing countries have reported using one or the other form of alternative form of medicine. There are certain countries that are moving towards the legalization of some alternative medicine therapies that are being backed with approved clinical data.
Further key findings from the report suggest:
The market is driven by high adoption rates of herbal dietary supplements other wellness therapies like yoga, acupuncture
Usage of botanicals has become the most prominent form of alternative medicine as the segment was observed to account for generation of the largest share of revenue
Europe and the Asia Pacific regions emerge as clear hotspots for these forms of therapies and combine to generate the major share of market revenue
Developing regions such as Latin America and Middle East Asia are set to witness considerable growth in demand over the forecast period driven by the expensive nature of conventional medicine and lack thereof is certain countries
Visa & Travel
Upon request, the conference organiser will provide you an official invitation letter for attending the Alternaive medicine and Hospital management conference 2020, Budapest that may assist in getting the appropriate visa. However, such invitation does not imply any responsibility or liability for travel or other expenses. If you need an invitation letter for the VISA application, for that you have to confirm your participation at the conference and the mode of participatation and provide with the following information:
Full Name (as per your passport)
Postal address
Mode of participation
Payment details
If you have a keynote, invited, oral or poster presentation, please provide the details of your registration.
For Visa Information
The overseas visitors outside Europe entering Portugal should hold a valid passport with at least 6 months validity from date of entry. Citizen having passport from certain countries needs a VISA to enter in the Budapest. For more information about visa for business trips and to attend conferences in Hungary, please contact the Hungary Embassy or Consulate in your country.
It should be noted that the invitation letter will be send to the participant by E-mail only. Please be aware that we would not able to directly contact to consulates or embassies regarding any visa issue. As the participant, it is your sole responsiblity to apply and follow up your Visa application.
CME & CPD Conference
Benefits of Attending CME accredited Healthcare Management Conferences:
Attending our CME accredited healthcare conferences is beneficial and valuable to physicians and other healthcare professionals because it is required in order to maintain medical licensure & certification, is a source of constant improvement that ultimately improves their medical practice, and keeps them up-to-date on the latest technologies, advancements, treatments, etc.
Speaking at our CME healthcare conferences will also be a great stage for clinical healthcare/medical professionals to share their expertise and increase their distinction in their specialty.
By attending our healthcare conferences researchers/professionals will get time to spend with expert presenters, but perhaps even more importantly they get to network with other attendees.
Our healthcare conferences provide doctors with the opportunity to engage in discussions with presenters about educational material, which can help them, understand it better and develop Knowledge Base.
Participating in our CME healthcare conferences helps to expand your resources.
Attending at our CME healthcare conferences can get points for presentations and publications and can introduce new ideas and approaches to the healthcare/medical professionals.
Benefits of Attending CPD/CE approved Healthcare Management Conferences:
CPD is an investment that you make in yourself. It's a way of planning your development that links learning directly to practice. CPD can help you keep your skills and knowledge up to date and prepare you for greater responsibilities. It can boost your confidence, strengthen your professional credibility and help you become more creative in tackling new challenges.
Attending our healthcare management conferences provides the following CPD benefits:
Shows your commitment to yourself development, your career and to the wider IT industry
Enables you to evaluate your learning and recognise its real value
Enables you to recognise your knowledge gaps and helps you to address these
Enables you to plan and achieve your career goals
CPD is an indicator of professionalism
Allows you to up-skill and engage in innovate solutions
Enables you to enhance your employability
Build your confidence and credibility within the field in which you work
An asset to show at employee appraisals
Volunteers required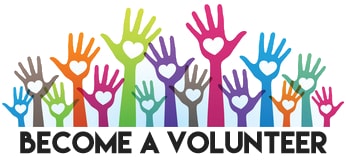 Welcome Alternative medicine and Hospital management 2020 Volunteers!
Interested in attending Alternative medicine and Hospital management 2020 but the registration price is restrictive? We can always use some extra hands on site and have a limited number of spots available to those wishing to contribute some volunteer hours during the event.
Roles:
-Moderator
-Sessions chair and co-chair
-Conference Ambassadors
In exchange for your help, we are happy to offer our volunteers passes at low costs. To know more about the roles, responsibilities, benefits, eligibility criteria please Click on the link below to sign up and fill the form
To Collaborate Scientific Professionals around the World
Conference Date November 12-13, 2020
For Sponsors & Exhibitors